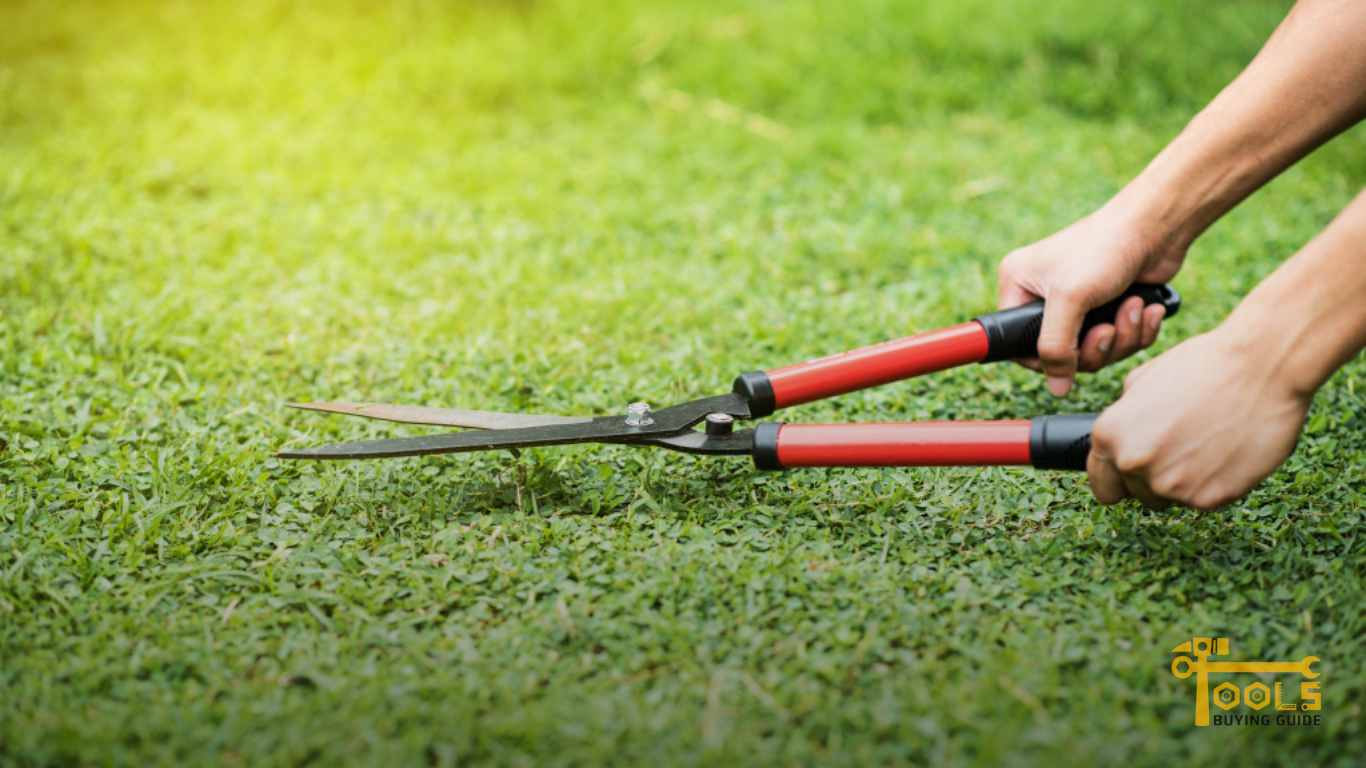 You don't always need a lawn mower to keep your grass looking its best. There are plenty of hand tools out there that can help you take care of your grass-cutting needs.
A hand-held grass-cutter can be easier and more cost-effective for small to medium yards. You can use hand tools for trimming, edging, and maneuvering around tight spaces. The best grass-cutting hand tools can help you finish the job quickly and efficiently.
In this guide, we'll review the top-rated grass-cutting hand tools to help you choose the best option for your needs. We'll cover everything from shears and scissors to manual lawn edgers and extendable trimmers. The buying guide will provide all the information and options to choose the best grass shears for your yard. So, let's get started.
Top Best Grass-Cutting Hand Tools
Ready to find the perfect grass-cutting hand tool for your yard? Here are some of our top recommendations.
When you buy through links on our site, we may earn a small affiliate commission at no additional cost to you.
Fiskars ShearEase Grass Shears
Fiskars ShearEase Grass Shears – 5″ 360-Degree Swivel Blade – Garden Shears and Grass Cutter – Black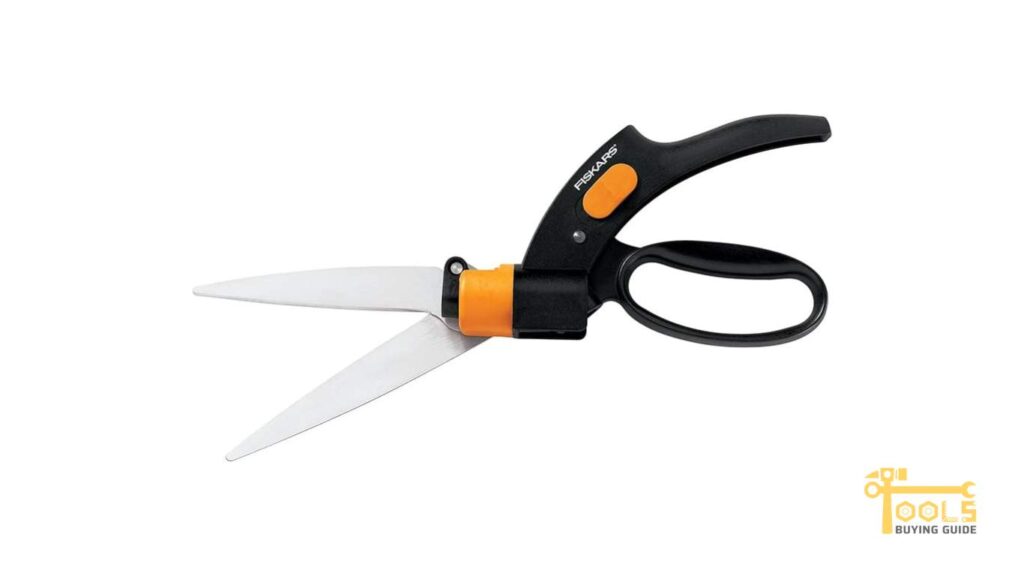 The Fiskars is a top-rated manufacturer of crafting and sewing tools, and their sheer ease grass shears are no exception. For trimming grass around tight spaces and edges, these hand grass clippers are a perfect choice.
Some features of the shear ease grass shears include
Quality & durability
You won't have to worry about durability with the Fiskar grass shears. The blades are made from fully-hardened steel and remain sharp for long-lasting use.
Plus, the blades are 360 degrees, so you can get an even cut each time. The 4-1/2-inch blades also reach the tip so that you can make clean cuts with no jamming or sticking. The cuts you get will be smooth and quick, making the job easier than ever.
Pros
Changeable to vertical or horizontal cutting

Grass-cutting blades are 360 degrees for even cuts

Comfortable and easy to use

No jamming or sticking

Blades are fully-hardened steel for durability
Cons
Not suitable for large areas of grass
Convenience & Comfort
The scissor-style handles are designed to give you more control and comfort when cutting. The Softgrip handle also helps reduce fatigue, so you can get the job done with ease. The moulded handle also helps you keep a secure grip even when your hands are wet. And with the ShearEase technology, you won't have to worry about jamming or sticking.
For an easy and cost-effective solution to your grass-cutting needs, the Fiskars hand lawn trimmer is an excellent option. With quality, durability, and comfort, you can get the job done quickly and efficiently.
American Lawn Mower Company Push Reel Lawn Mower
Customers who viewed this item also viewed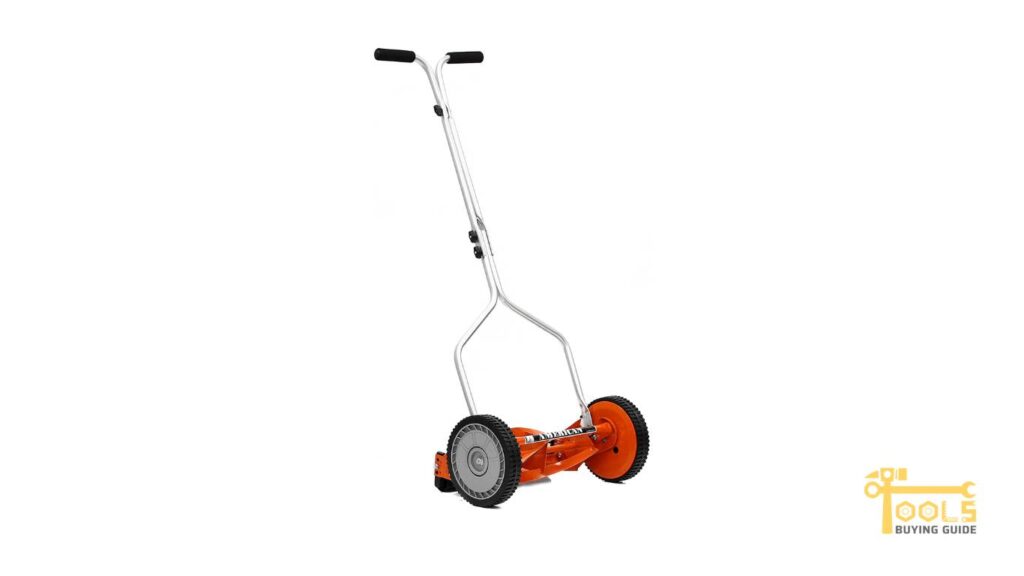 American Lawn Mower Company is also known for its quality push-reel lawn mowers. Their push reel mower is easy to use, lightweight, and requires little maintenance. Here are some of the features that make it stand out from other push reel mowers:
Performance & Quality
You have a 4-blade reel mower with a cutting width of 14". This allows you to cover more area in less time. The 8.5" polymer wheels provide maximum manoeuvrability, even in narrow spaces. This is ideal for small lawns and tight areas around flower beds or trees.
The adjustable blade height allows you to cut grass anywhere from 0.5" to -1.75", making it easy to maintain a perfect lawn. However, if the grass is taller than 1.75", the mower may struggle to cut through it.
The blades are made of high-quality steel and are built to last. The frame is also made from durable materials, allowing it to withstand the test of time.
Pros
Lightweight and easy to manoeuvre

No battery power needed

Blades are durable and sharp

Maintenance-free for easy care

Adjustable blade height for the desired cut
Cons
May struggle to cut through tall grass
Ease of use
The push reel lawn mower is easy to use and assemble. Assembling the mower only takes a few minutes and requires no special tools. To operate the mower, you need to push the handle and control the cutting speed. Its lightweight design makes it easy to manoeuvre around lawns of any size or shape.
The mower also requires very little maintenance. You just need to ensure the blades are sharp and clean and regularly check for damage. The mower is designed to be maintenance-free, so you don't have to worry about expensive repairs or replacements.
If you're looking for an easy-to-use, lightweight, and reliable push-reel long-handled grass trimmer, the American lawn mover is a great choice. With its quality blades and adjustable blade height, it provides a perfect cut every time.
Workpro 2-Piece Pruning Shears Set
WORKPRO 2-Piece Pruning Shears Set, Drop Forged 8″ Bypass Garden Shears and 8" Handing Pruner with Steel Straight Blade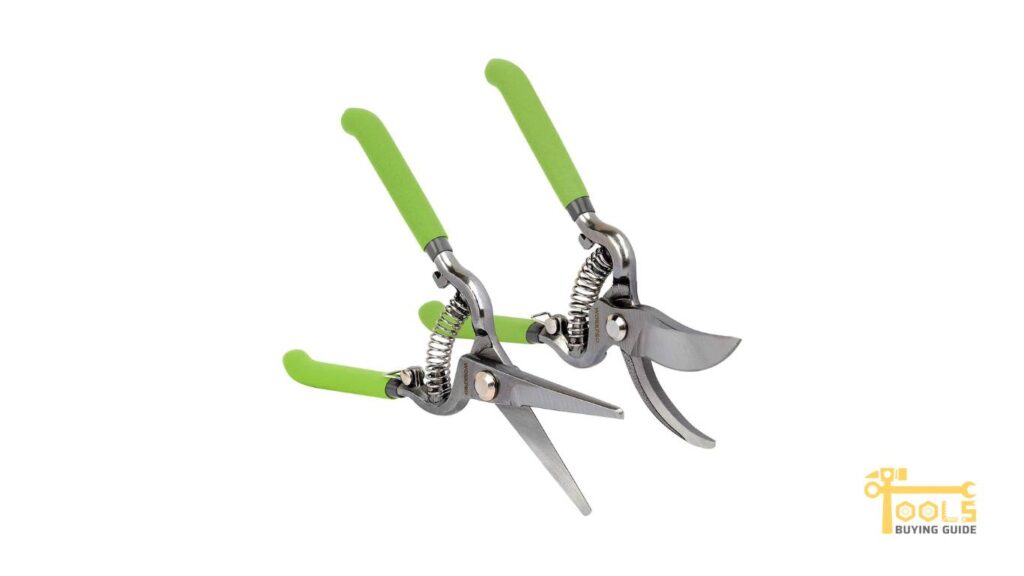 For your gardening needs, Workpro offers a line of drop-forged garden shears that are both reliable and durable. Why should you choose these shears? Here are some of the features that make this product stand out:
High-quality performance
The Workpro shears have 8″ bypass hand pruners for trimming and 8" gardening pruners for tough jobs. The sharpened carbon steel heads and steel cutting blades make it easy to cut stems, branches, and twigs without hesitation. Plus, they're designed with an easy-open locking mechanism that will keep the blades locked in place until you're ready to use them.
Comfortability
Gardening can be a tiresome task, but the Workpro shears make it a breeze. The ergonomic handle and non-slip grip will help reduce fatigue during tasks, while the high-quality spring adds extra comfort and flexibility. Plus, the shears have an adjustable thumb lock that allows you to adjust the tension to get the perfect fit.
Pros
No hand fatigue during use

Spring mechanism adds extra comfort

Sharp blades for precise cuts

Locking mechanism to protect against potential injury
Cons
Need extra care when not in use to prevent rusting.
Maintenance
Caring for your Workpro cutting grass scissors is super easy. After each use, wipe the blades with a soft cloth. The carbon steel heads are rust-resistant, so you don't have to worry about them corroding over time. Plus, the included sheath will help protect the blades when not in use.
The Workpro 2-piece pruning shears set is a great choice for any gardener. With its sharp blades, ergonomic handle, and easy-open locking mechanism, it's guaranteed to get the job done easily. Plus, the rust-resistant material of this scissors grass cutter ensures a long-lasting product that you can use for years.
Sun Joe HJ604C Cordless Grass Shear
Sun Joe HJ604C Cordless Grass Shear + Shrubber Handheld Trimmer, (w/ Battery + Charger Included)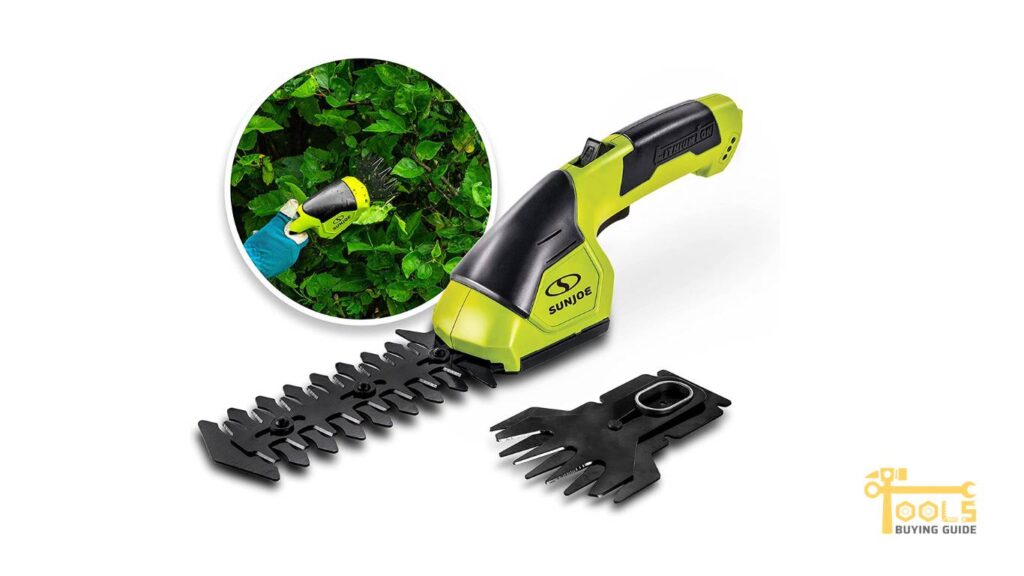 For those looking for a lightweight and manoeuvrable option, the Sun Joe HJ604C cordless grass shear is an ideal choice. This cordless hedger is the perfect tool for quickly and easily grooming small gardens.
The features of this hedger include:
Performance & Quality
You can expect superior performance and quality from the Sun Joe HJ604C. Equipped with a 7.2 V lithium-ion battery, you'll have a continuous and cordless operation with no need to fuss around. This handheld model makes it easy to manoeuvre and control for precise results. For small gardens, this battery-powered grass sheer is a great choice, as its lightweight design makes it simple to manoeuvre.
Pros
Grass cutting is easy with the 3-position head

Lightweight and manoeuvrable design

Ergonomic handle for maximum comfort

No manual effort is needed with the battery-powered model
Cons
Charging the sheers can be time-consuming.
Versatility & safety
The HJ604C is versatile enough to trim grass, shrubs, and hedges. The shrubs and hedges don't stand a chance against its sharp steel blades. Its three-position blade head adjusts to get the right look for your garden or landscaping. Plus, it has a safety switch to help prevent accidental startups.
Finally, the HJ604C has an ergonomic handle for maximum comfort and convenience. Its size makes it easy to store in your garage or shed, so you can easily access it when needed.
Overall, if you're looking for a lightweight and manoeuvrable grass shear that offers superior performance and quality, the Sun Joe HJ604C is a great choice.
Flora Guard Traditional Bypass Pruning Shears
FLORA GUARD – 8.5Inch Traditional Bypass Pruning Shears – Professional Tree and Branch Garden Pruner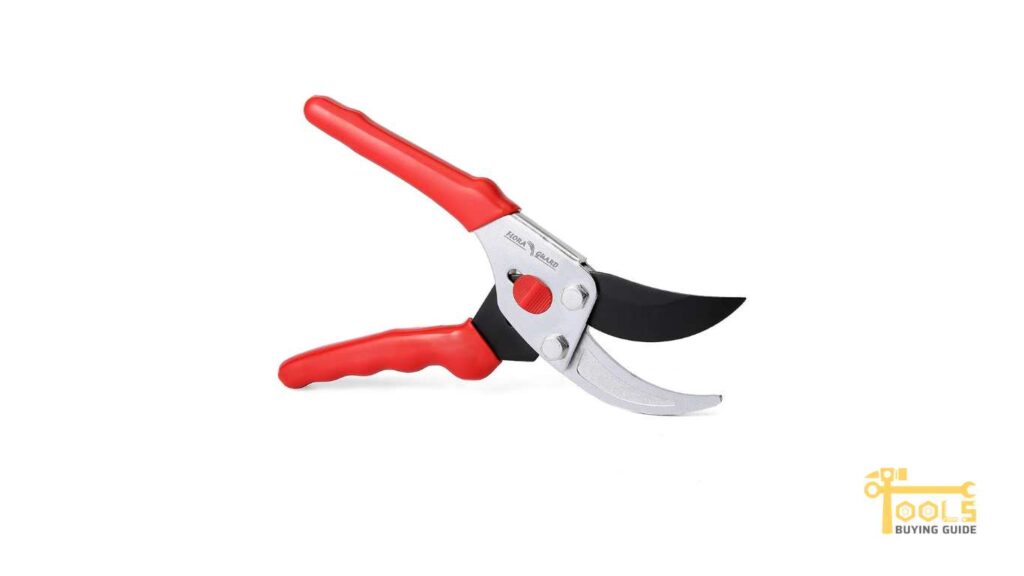 Flora Gaurd is a leader in producing garden tools. Their traditional bypass pruning shears are a great choice for professional gardeners. The features of this pruning shear include the following:
Durability & quality
For heavy-duty gardening tasks, you need a tool that can stand up to wear and tear. The Flora guard pruning shears are made from high-carbon steel and feature a coating of ilaflon to prevent rusting. Professionals will appreciate that these shears are built to last.
Ergonomic design and comfort
Gardening can be a physical task, so it's important to have tools that are comfortable to use. The Flora pruning shears feature an ergonomic hand design and a softer PVC dipping grip with silicon cushion, making it easier for all hand sizes. With these features, you can work longer and more efficiently with less fatigue.
Pros
Manual sheers provide more control.

Small spaces can be reached easily.

Molded grip with silicone cushion for comfort

The lock will prevent accidental openings
Cons
Manual sheers require more effort than battery-powered models.
Safety features
Safety is always a priority, and these guard pruning shears take extra precautions to keep users safe. The shear blade is protected by a safety latch to prevent accidental openings. Additionally, the blade has been designed with an 18 mm or 0.75(inch) cutting capacity to ensure that users are not over-extending themselves.
Overall, the Flora guard sheers are a great choice for professional gardeners. They feature high-quality materials and an ergonomic design to help you do the job quickly. If you're looking for a reliable and comfortable pruning shear, the Flora Guard is worth consideration.
Kings County Tools Grass and Topiary Shears
Kings County Tools Grass and Topiary Shears | Classic 6" Spring Blades | Razor Sharp | Rubberized Grips on Plastic Handles | Easy to Open and Snip Clippers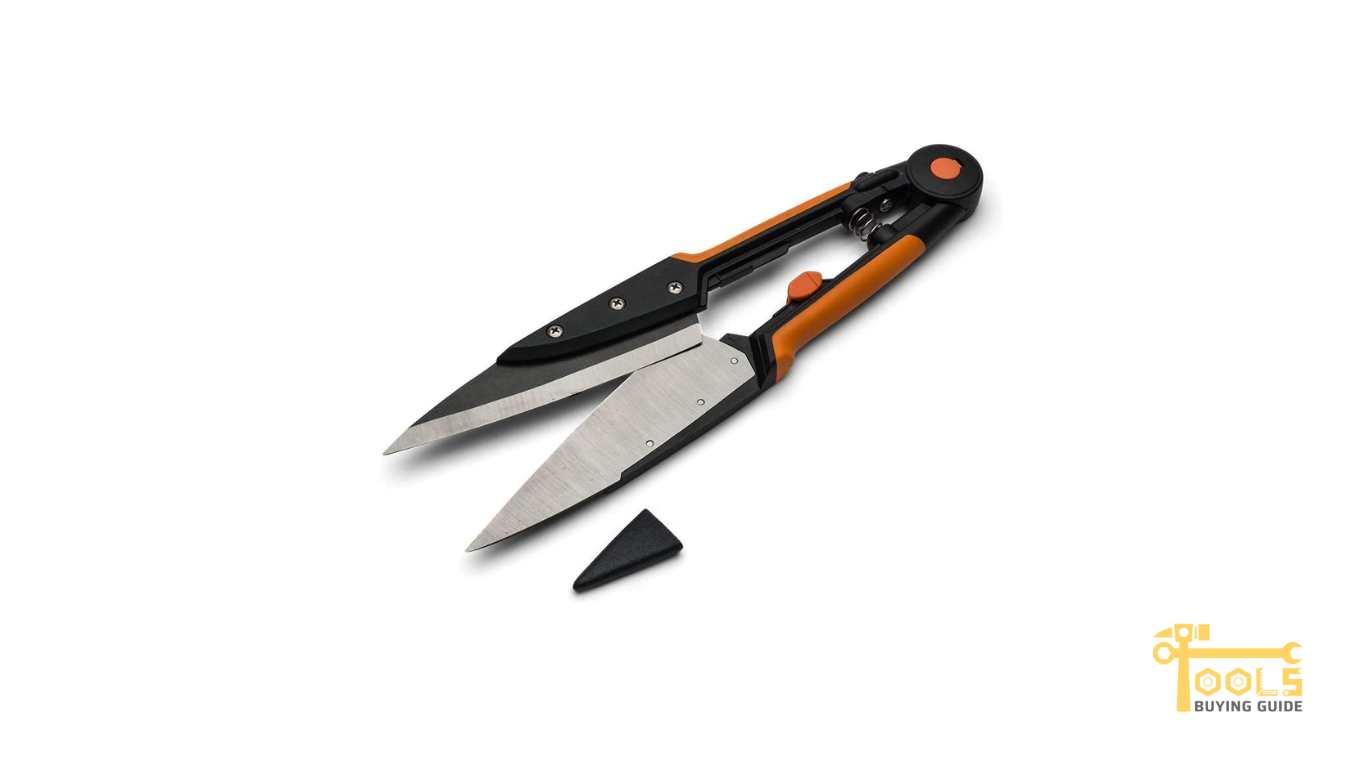 For high-quality workshop and gardening tools that are reliable and built to last, Kings County Tools is a great choice. Their grass and topiary shears are perfect for quickly trimming down geraniums and other plants with little exertion.
Here are some of the features that make these shears stand out from the crowd:
Durability & craftsmanship
These shears are made from high-quality materials that make them extremely durable and reliable. The blades measure 6" in length, allowing you to work with precision and accuracy. The 13-1/2" overall length gives you plenty of reach for tackling large tasks. Moreover, the spring blades make trimming and parching simple and easy.
Ergonomics & design
These scissors to cut grass are designed with user comfort and convenience in mind. The plastic handles feature a rubberized grip that ensures easy handling and maximum trimming control. Plus, the shears come with a locking mechanism for safety and a blade tip cover to protect your hands.
Pros
Spring sheers allow easy trimming.

Easy to assemble and maintain

Control and accuracy with the pivot point

Locking mechanism and blade tip for safety
Cons
Not suitable for larger yards or larger jobs.
Ease of use
These shears are simple to use and have a modular design for easy assembly and maintenance. The pivot point is perfectly placed, allowing you to make precise cuts with little effort.
Overall, these shears are a great choice for anyone looking for reliable and durable gardening tools. With their great design and ergonomic features, you can easily trim, pare down, and shape plants with little effort. So, if you're looking for a great set of shears for your workshop or garden, look no further than Kings County Tools' grass and topiary shears.
Edward Tools Hand Grass Clipper
Edward Tools Hand Grass Clipper Scissors – Classic Cut Drop Forged Grass Shears for Hand Edging Lawn, Trimming Shrubs and Flowers – Comfort Grip Handles – Pro Grade Garden Scissors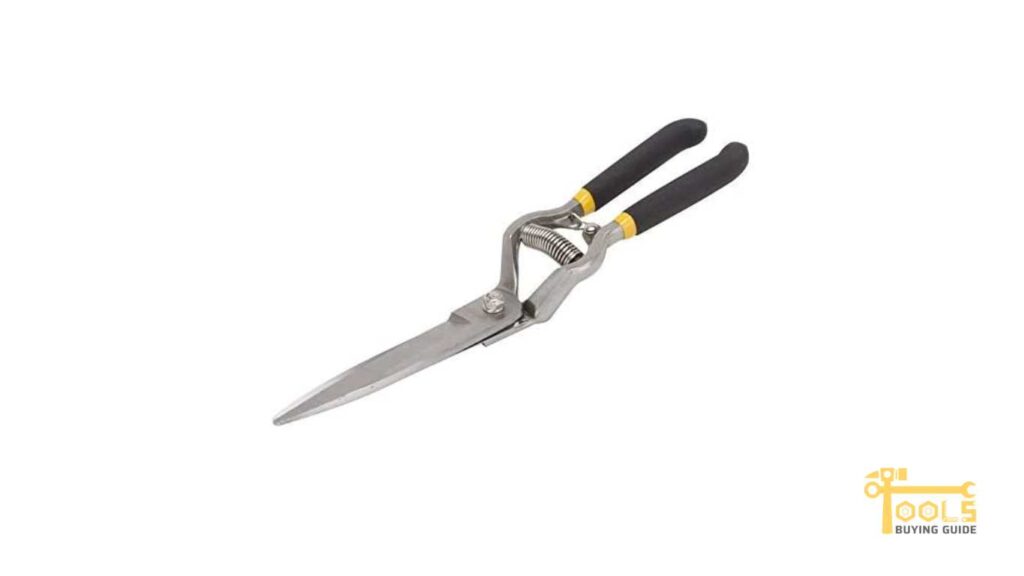 Edward Tools is known for its professional-grade tools that can withstand heavy use in any environment. Their hand grass clipper is no exception. For any serious gardener, these best grass clippers are a must-have.
Some of the features you may want to look out for:
Material & durability
Forged from steel, these are heavy-duty multi-use shears with sharp blades that can cut through tough and thick grass easily. The blades offer great performance and make these an excellent choice for any avid gardener. They are also strong enough to last through years of use.
Comfort grip handle
The handles of these lawn clippers have been designed with comfort in mind. They feature an ergonomic design with rubber-coated handles so they won't slip out of your hands. The shape is also designed for an easy grip and efficient use.
Pros
Sharp edges for efficient cutting

Long sheers for hard-to-reach areas

Handling and grip for comfortable use

Lightweight design for easy transport
Cons
Spring can be damaged without proper care.
Easy to use
The design of these lawn scissors makes them easy and comfortable to use. Thanks to their sharp blades, they can make quick work of any grass-cutting you need to be done. For added convenience, these clippers are lightweight and easy to carry. You can take them anywhere you need to go.
Edward Tools offers a lifetime warranty on these clippers, so you can feel confident they will last for years. If you're looking for a reliable pair of grass hand clippers, the Edward Tools hand grass clipper is the perfect choice. Whether you're a professional gardener or an amateur, these grass scissors offer great performance and durability to get the job done.
Woodland Tools Co. Heavy Duty Adjustable Anvil Pruning Shears
Woodland Tools Co. Heavy Duty Adjustable Anvil Pruning Shears, Gardening Hand Pruner, Stem Cutter, Branch Trimmer, for Dry Dead Growth (05-2004-100)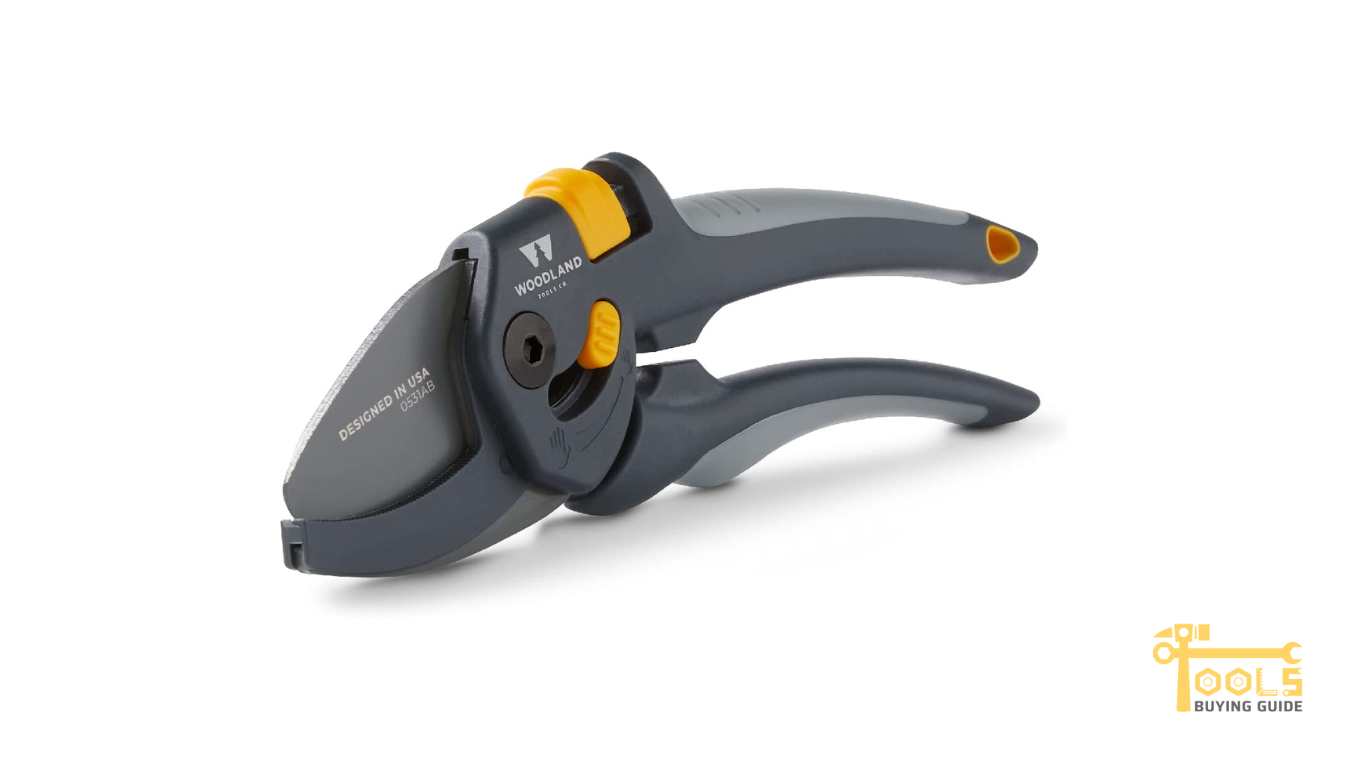 The gardening tools from Woodland Tools Co. come with advanced features and designs. The features of their heavy-duty adjustable anvil pruning shears are no exception.
Cutting performance
These lawn shears have a powerful cutting performance. Their advanced blade designs are ultra-sharp, allowing for clean cuts every time. They can even power through dry wood and branches up to ¾", making them ideal for various tasks.
Size adjustment
For added convenience, the pruner has an adjustable size feature that automatically adjusts to fit your hand. This makes cutting through wood and branches much easier and faster. You can easily adjust the pruner size to fit your needs.
Pros
Innovative design for efficient cutting

Adjustable size for a comfortable fit

Internal spring to reduce fatigue

Non-stick coating for rust resistance
Cons
The small size makes them difficult to use on larger branches.
Protection & comfort
The hand grass shears have a platinum non-stick coating, making them rust-free and easy to clean. Additionally, they are ergonomically designed with a soft grip for maximum comfort while using them. This makes it easy to use the pruners all day without discomfort.
Woodland Tools Co. has included an integrated internal spring in its design. This feature helps reduce fatigue and makes it easier to use the pruner without getting tired.
Overall, these pruning shears from Woodland Tools Co. are a great tool for various tasks. The powerful cutting performance, adjustable size, protection, and comfort offered make them an ideal choice for any gardener. With their smart design and features, these grass-cutting shears will make your gardening projects easier and more efficient.
Buying Guide: What to Consider When Buying a Grass-Cutting Hand Tool
A grass-cutting hand tool is a great way to maintain your lawn or garden easily. Whether you prefer the traditional scythe, the modern trimmer, or the versatile lawn mower, having the right tool for the job can make all the difference.
When deciding what type of grass-cutting hand tool is right for you, there are a few key factors to consider.
What type of grass/vegetation will you be cutting?
The type of grass or vegetation you'll be cutting plays a major role in determining the right tool. Smaller, more delicate plants may require a slimmer blade, while thicker vegetation may require a wider or more robust cutting edge. Additionally, some grass-cutting hand tools like scythes and trimmers may be more suited for grasses. At the same time, lawnmowers are better at handling larger and tougher vegetation.
What is the size of the area you'll be cutting?
The size and shape of your lawn or garden will also help determine the best tool for the job. If you have a small, flat area, then a scythe or trimmer might be more suitable. However, for large and irregularly shaped areas, a lawn mower is the best option. Additionally, many cordless and battery-powered tools are ideal for large yards, as they can cover a larger range without needing to be plugged in.
How often will you be using the tool?
Frequent use is another important factor when choosing a grass-cutting hand tool. If you only need to use the tool a few times a month, then a manual scythe or trimmer might do the job. However, if you're tending to your lawn regularly, then an electric or battery-powered tool would be a better option. These tools are much more efficient and require less effort to use.
What features do you need?
Think about what features you need in a grass-cutting hand tool. Do you prefer corded or cordless tools? Do you need adjustable handle heights or tilt angles? What about safety features such as blade brakes and guards? Consider these factors before making your purchase so that you get the tool that best meets your needs.
What is your budget?
Finally, consider how much you will spend on a grass-cutting hand tool. Manual tools are generally much cheaper, while electric and battery-powered options can be pricier. Set a budget before shopping to ensure you don't overspend on a tool that doesn't fit your needs.
When you take the time to consider these factors, it's easy to find the right grass-cutting hand tool for your needs. With the right tool in hand, you'll be able to maintain a beautiful lawn or garden with ease.
Conclusion
The best grass-cutting hand tools will depend on the size of your lawn and what kind of job you want to do.
If you have a large yard, you may want a gas-powered trimmer for its power and convenience. For those with smaller areas, cordless electric trimmers are a great choice for cutting grass quickly and efficiently. If you're looking for precision cuts, opt for manual scissors or shears.
Fiskars shearEase grass sheers are a great choice to make clean cuts in tight spaces. Other reviewed products also offer great performance and are recommended for the job. Whichever you choose, take proper safety precautions and wear protective equipment like eye goggles and gloves.
Regularly inspect your tools for any damage that may occur over time, and ensure they are properly sharpened and maintained. With the right tools, you can easily keep your lawn looking its best.