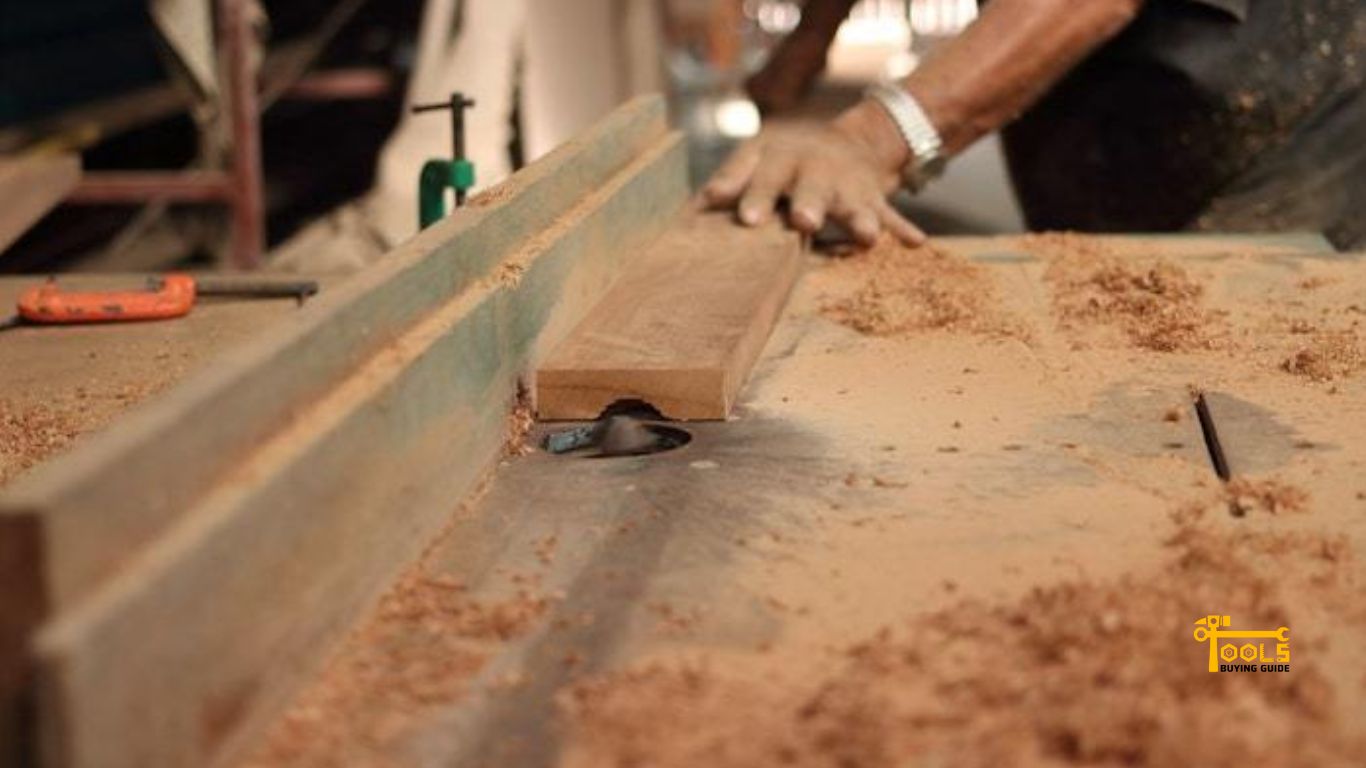 Skilled woodworkers know that tools make the difference between a hobby and a profession. However, your woodworking tools are only as good as the surface they sit on. Workbench with a router table is a perfect example of this. If you enjoy woodworking but have never used a router table to make your projects even more beautiful, then this is the blog post for you.
A router table is a piece of equipment that you can use to make many different things with wood. For example, it allows you to clamp your project down and use a router to create grooves on the surface of the wood. It is an excellent addition to any workshop because it makes the process more precise and faster for longboards or large pieces of material.
Whether you're building cabinets or furniture, a router table can help in many ways. From the precision cuts that they offer to your work's increased safety and accuracy, there's no denying how useful this tool is.
The router table will change the way you do woodworking. Gone are the days of limiting work by making a router table top or relying on the floor for surfacing and edge finishing tasks. Now you can true up your boards, scarf joints, dimension rough lumber, small rabbets—you get the idea.
Top 5 Best Router Tables
The best router table provides a flat, level, and durable surface for your workpieces to rest on while you rout them out with your router bit. We've compiled all our research into one comprehensive list of the best router tables available so that you can find what's right for you and get back to making sawdust.
When you buy through links on our site, we may earn a small affiliate commission at no additional cost to you.
Bosch Cabinet Style Router Table RA1171
Bosch RA1171 Benchtop Laminated Router Table 25-1/2 in. x 15-7/8 in. MDF Top Cabinet Style with 2 Dust Collection Ports,Blue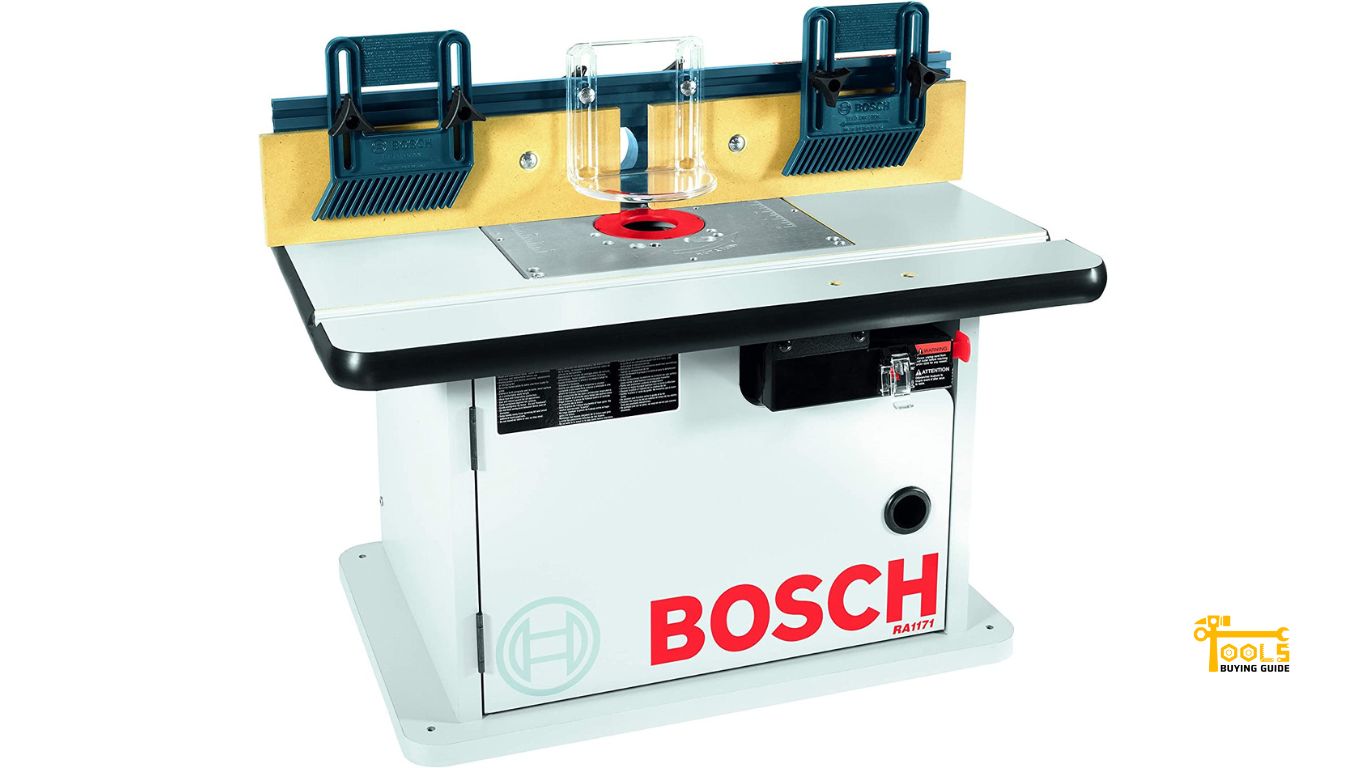 Meet Bosch's premium little tabletop router. Bosch benchtop router table Ra1171 offers a myriad of different benefits for your woodworking crafting. Not just for paring down lumber, this aluminum-fenced model takes on woodworking projects of any size with ease. As a result, it's the best router kit, whether you're creating smaller accents or working with a big slab of exotic hardwood that needs further shaping.
The Bosch router table design features an aluminum fence for your convenience alongside rollers so you can maneuver tall boards and slice neatly through long pieces of stock. The Bosch router table fence comes with adjustable MDF face plates, making the whole operation smoother than butter on freshly made pancakes. In addition, it has a rigid aluminum router mounting plate that makes the system more durable and allows you to adjust the depth of the cut for flush trimming easily.
This new Bosch router cabinet table lets you maintain OCD levels of order in your workshop. It features two dust collection ports, which means that your workspace is awkward and complete on both sides wall-to-wall with tools. However, You will still finish an entire job without having the fog of construction materials seep into everything.
Pros
Adjustable height fence

Added Safety Features

Easy to install

Budget-Friendly
Cons
Heavy

Difficult to find the compatible mounting plate
Final Verdict
Bosch Cabinet build router table handles all of your routing needs. Sporting a dual outlet switch for maximum versatility, a six-foot power cord bringing everything within reach, and a cabinet-style top helps keep everything organized.
Bosch RA1141 Portable Benchtop Router Table
BOSCH RA1141 Portable Benchtop Router Table and RBS006 1/4-Inch Shank Carbide-Tipped Multi-Purpose Router Bit Set, 6-Piece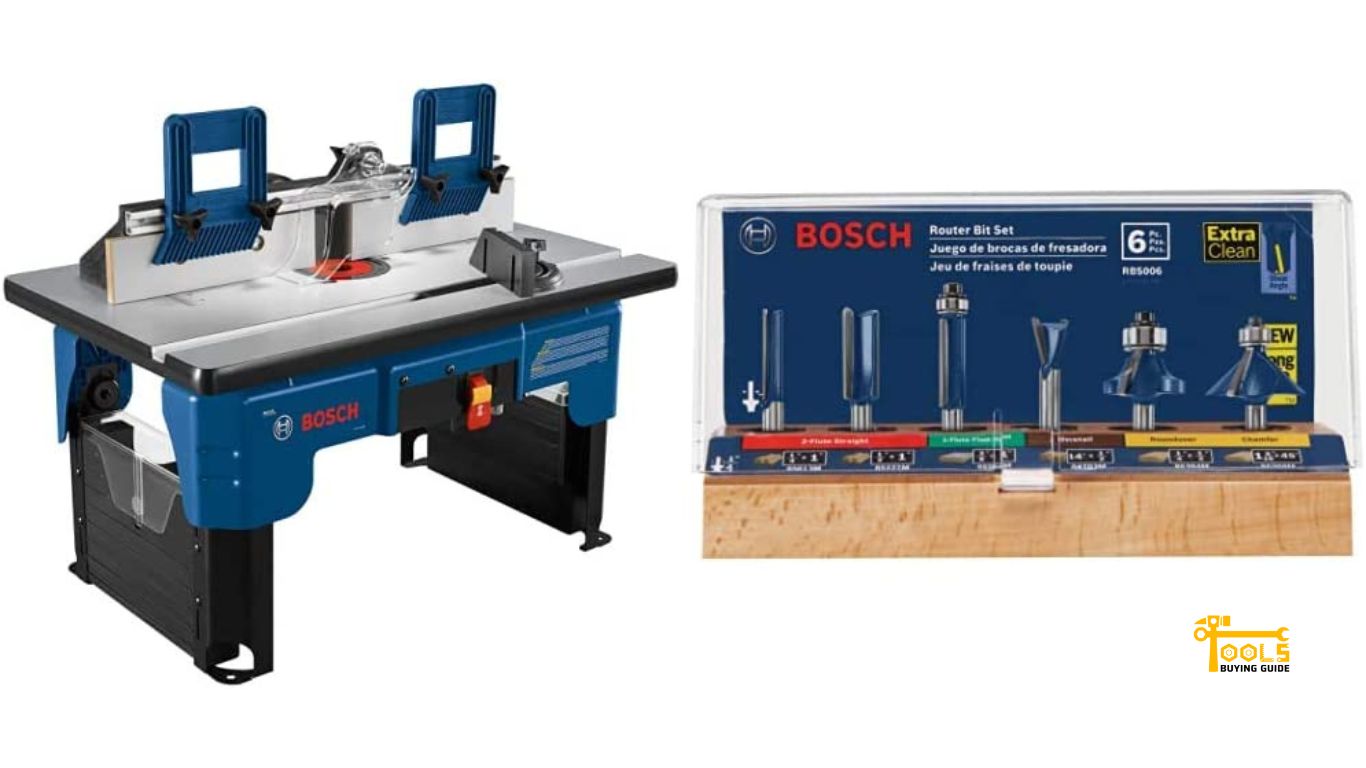 There's nothin' like having a portable router table for those days you don't feel like going out to the garage. This best wood shaper is a smaller version of heavy-duty router tables from Bosch. It's still made from the same durable materials and with the same precision design. So you can put it to work on your next project, wherever that takes you.
Bosch RA1141 Portable Benchtop Router Table is the perfect table for when you need double space, but your standard job site tables just don't do it. You can also use it as a compact workshop on your bench and have everything within easy reach. The tiny router table Bosch RA1141's ultra-portable design has folding legs – making it easy to pack this powerful portable toolbox into tight spaces, making it a table saw for small workshop. It's also outfitted with a laminated MDF top that keeps things steady and safe while you make the most of every inch.
A router is only as good as its bits. This compact Bosch table comes with one set of premium-quality micro-grain carbide tips designed to enhance your wood-working projects. Not only does it have high precision, but the design of this product leaves you with more working space than ever before, so you can stay concentrated on making your project perfect. You will be able to make all necessary cuts for even the most intricate of wood pieces in no time.
Pros
Folding Design

Budget-Friendly

Super lightweight

MDF laminated Surface
Cons
Miter Gauge is not so sturdy
Final Verdict
This best portable router table is your answer to making high-quality, precision woodworking projects on a small scale. This benchtop router table features everything you need to make super accurate pieces without having to take up plenty of space in your workshop or studio.
KREG Precision Router Table PRS1045
KREG PRS1045 Precision Router Table System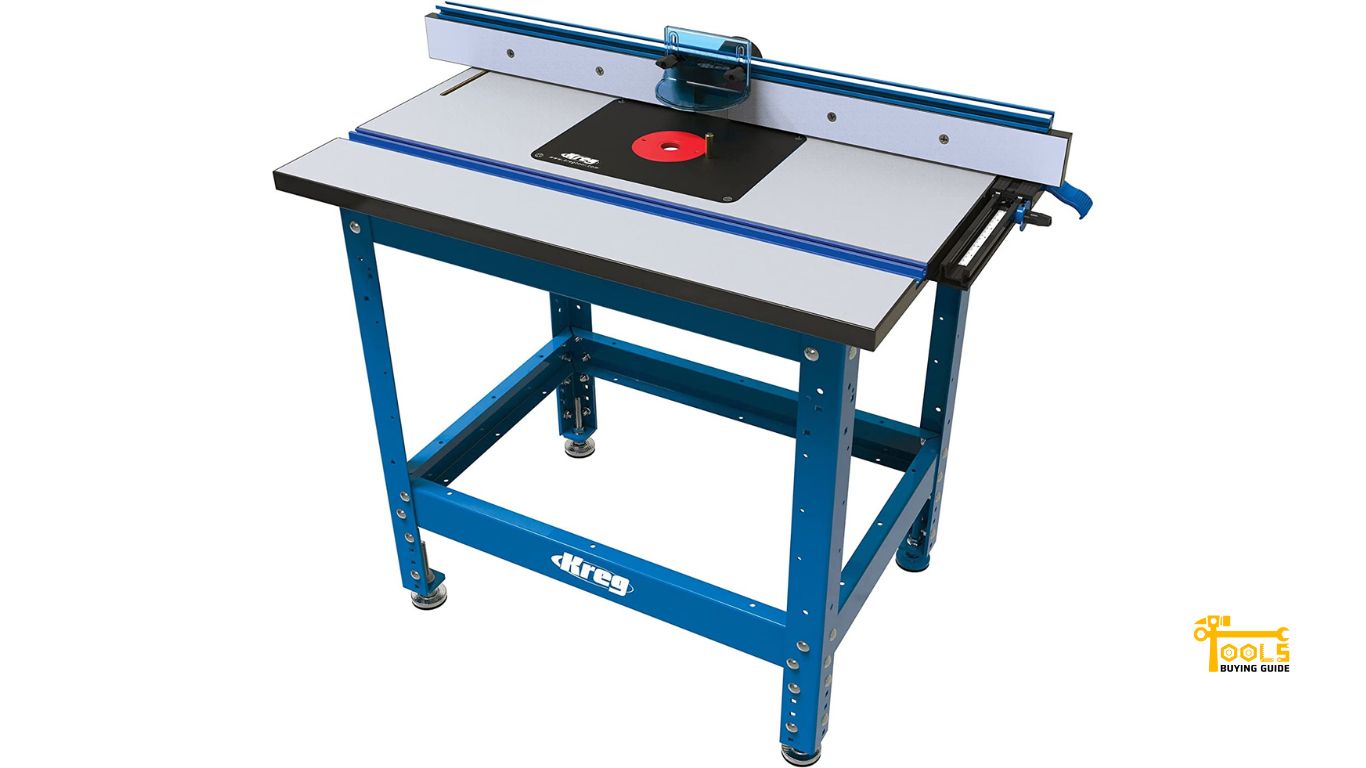 It's saddening that many home woodworkers have given up on their dreams of hand-crafting beautiful furniture and turned to different crafts instead. However, with a Kreg precision router table system, you'll be bumping elbows with some professional fine woodworking in no time at all. This table has everything necessary for accurate cutting, making it great for those high-precision projects where any inaccuracy is unacceptable.
Any crafter needs space to get creative, do projects, and make things. The Kreg router table system gives people the right place for all kinds of activities with its full-sized surface and expansive breadth. Adjusting only takes seconds with the help of a router insert plate that securely locks in your desired location. As a result, you don't have to worry about catching a finger or piece of clothing on anything. This router table also leaves heaps of legroom on either side, so you can always move freely while working.
The PRS1045 features a router table fence system that provides a rigid structure for accurate routing and slotting applications. It also has a height-adjustable T track and micro-adjust wheels, ensuring fast and micro-alterations with minimal effort. With an adjustable height of 31″ to 39″, this high-quality steel stand can fit seamlessly with any type and size of the workspace.
Pros
Wide tabletop surface 

Work from Both sides of Table

deep cut-out for your router

Heavy-duty steel frame
Cons
The locking lever is not so soft

Comparatively expensive 
Final verdict
The Kreg table top router table is perfect for working with large pieces of wood.  It's quick, efficient, and saves a lot of time — the soft start feature ensures that the router only begins turning once it reaches full speed, so there will be no more stalled motors or broken bits.
Kreg PRS2100 Bench Top Router Table
Kreg PRS2100 Bench Top Router Table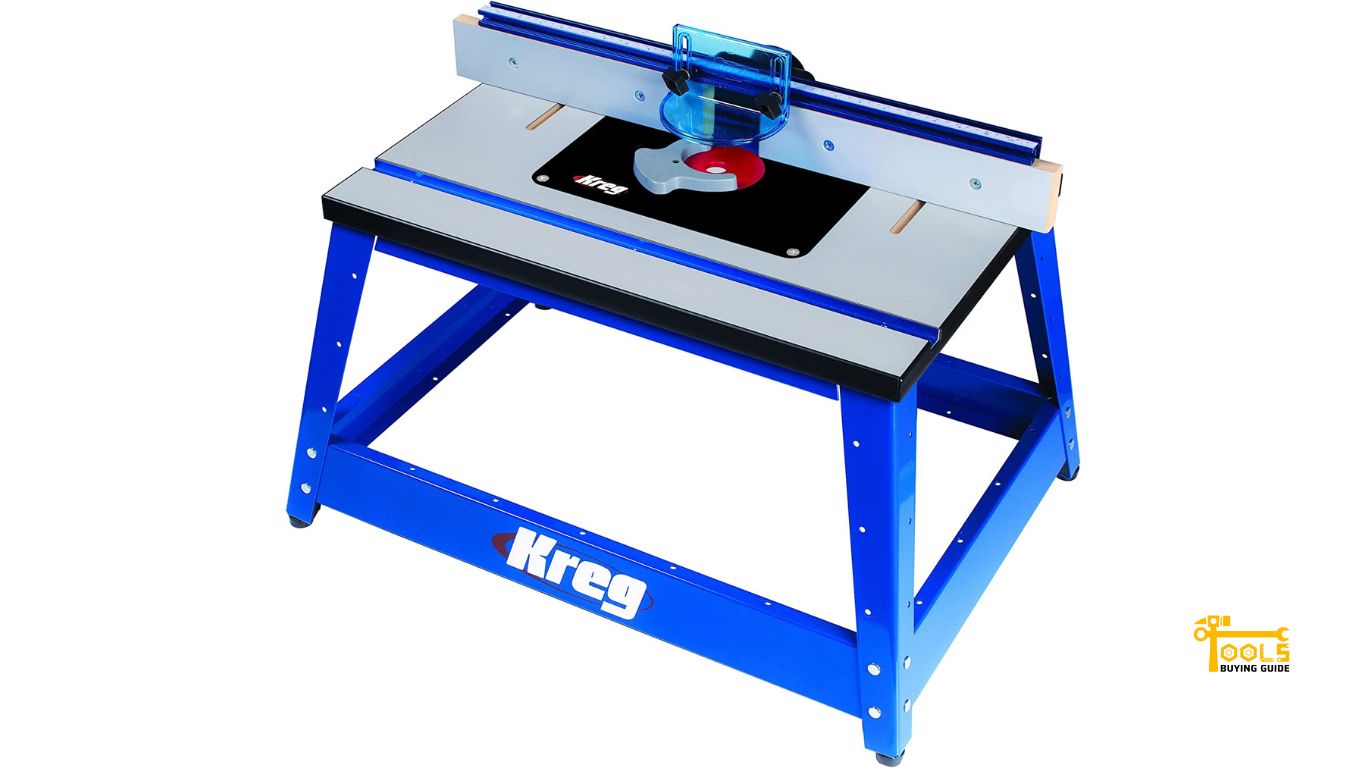 The Kreg PRS2100 Bench Top Router Table has revolutionized woodworking and DIY projects by giving anyone in need a sturdy and repeatable routing table. With adjustable faceplates to ensure perfect registration on various types of stock material, this tool will produce more accurate results than ever before when cutting pocket shaping or face joinery.
It's great for projects that take up more space than your woodworking bench. Keep things in one place with the Kreg prs2100 benchtop router table. It features a solid steel frame with soft edge trimming to safeguard against mishaps, an extra-large MDF Kreg precision router table top, and seamless rail systems to guarantee the smooth travel of workpieces. Adjustability is paramount when ensuring routing so that this table can be adjusted as your working project demands.
This PRS2100 router table meets the needs of your discerning woodworking customers by keeping a clear-cut top for routers while also providing seamless and precision leveling with its built-in plate levelers. In addition, it's an all-inclusive package, so you don't need any additional equipment to get this great table started on your job site.
Pros
Large tabletop surface 

Durable and sturdy Stand

MDF Table Top

Dust Collection
Cons
Buy some of the screws and nuts yourself

Comparatively expensive 
Final Verdict
Convenient and precise, the Kreg precision router table system is a must-have for home improvement enthusiasts. This lightweight bench gives you all the space you need to craft your perfect piece of furniture.
Leegol Electric Benchtop Router Table
Leegol Electric Benchtop Router Table Wood Working Craftsman Tool (Router Table A)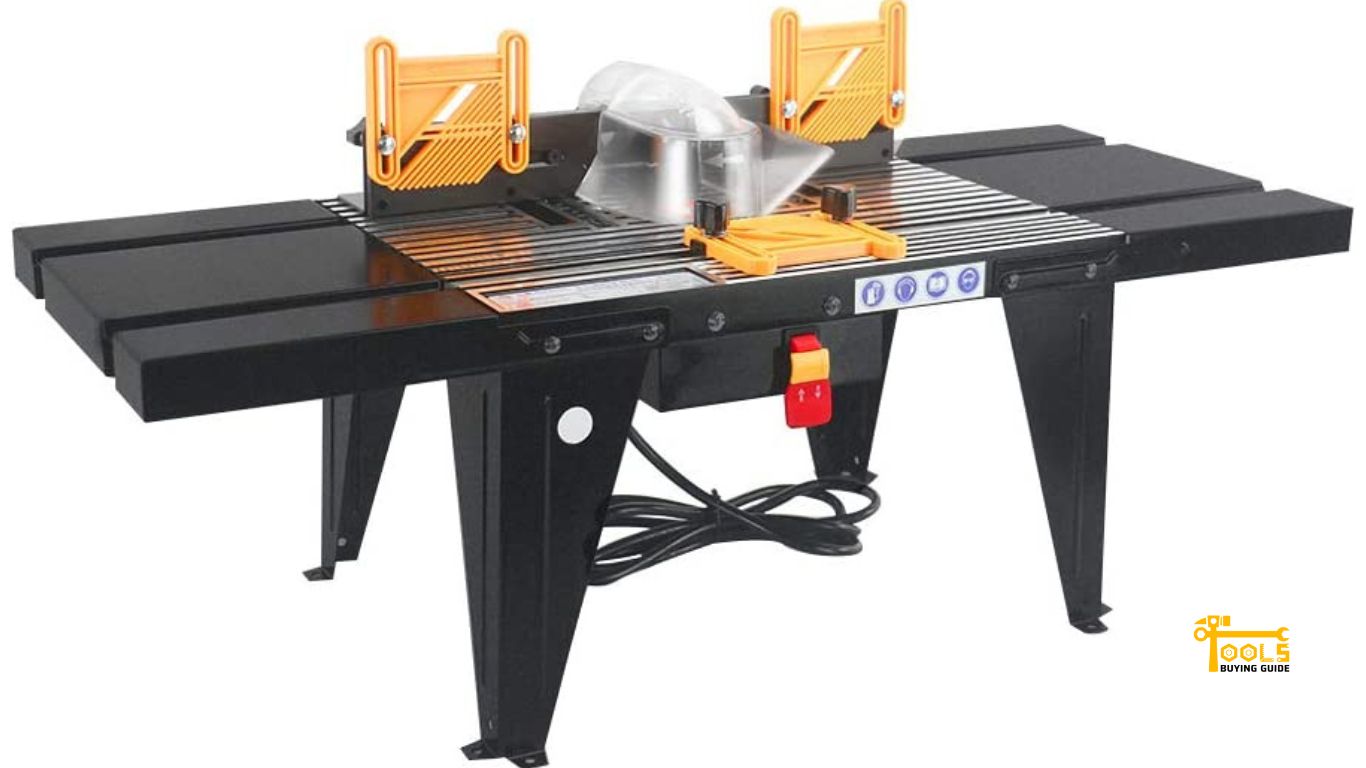 Routers have always been a pain to use. You'll have crooked cuts, and the company's table isn't exactly what you were looking for. Leegol has created a router extension table that attaches to your existing table or workbench. It is easy to connect and doesn't take up too much space to accommodate many things other than routing. Now you don't have to worry about those nasty jagged edges or making one cut at a time with this benchtop router table attachment.
This Router table best provides you with ergonomic precision when routing and shaping wood. But what good is the table if your router slips off into a heap below? The built-in retractable guard will give you peace of mind while changing bits or cleaning up, preventing accidents in tight spaces like next to shelves or cabinets.
The Leegol DIY benchtop router table can be more than just a bench, giving you an entire workshop setup for less money and stress. You'll also never have to worry about your saw blade ever again with our fence system. The innovative design of the guide rail combined with fences gives you complete accuracy – that includes horizontal and vertical. In addition, Leegol Electric Benchtop ensuringRouter Table has an Exact Miter Gauge to ensure that each cut is accurate.
Pros
It gives a clean and open workspace 

Shield from injury

Pop-out fence design 

Aluminum alloy and Steel Table
Cons
Efficient with shorter tips

The mounting system takes some effort
Final Verdict
Take your projects to the next level with this precision benchtop router table. This Extendable decent router table is perfect for anyone looking to make complex shapes effortlessly. With precision and ease of use as its highlights, this product will be an invaluable asset in any workshop.
Conclusion
When it comes to router tables, there are two things I think you should look for in a good table. The first thing is stability, and the second is height adjustment. You want a stable surface that can withstand heavy use without being wobbly or unstable with changing wood weights on top of it. The other consideration is how tall your workbench will be and where you plan on storing both the router table and any additional tools/supplies close by when not in use. That way, you don't have to adjust heights all day long continuously.
FAQ's
Do all routers fit all router tables?
There is no set rule that all routers will fit all router tables. So the first thing to think about before buying your new router table is the size of your current or old router. Next, the vital factor to consider is the adjustable height of the tabletop itself and its overall dimensions (length x width). Finally, how heavy does your old router feel? If it's lightweight, then there's a good chance that most other routers should fit on top!
Is it better to use an aluminum or a hardwood table? 
Many factors go into the decision of which table to use for your event. Aluminum tables are typically lighter than hardwood tables, but they also scratch easier and have a tendency to dent more easily. Hardwood tables tend to last longer than aluminum but may require extra maintenance, like sealing the wood with an outdoor sealant before each use. There is no correct answer when deciding between aluminum and hardwood because both types have pros and cons.
Are there any tools that are essential for using a router table?
A router table is a great tool that you can find in almost any workshop. However, there are some tools that you need to use a router table effectively. If you want the best results, then you must have these tools on hand. 
1) A clamping system such as C-clamps or bar clamps; 
2) Doweling jigs;
3) Miters (Miter Tapes);
4) Quality blades for your router;   
5) A good quality fence system attached to